It's been a month and a half since CityCamp Oakland hit the halls of Oakland and we've asked both our guests for their honest feedback as well as done some intensive debriefing amongst our team and members.  We realize that volunteer led events as well as those run by well paid professional teams can always get better and we intend to do just that- get better with every event we do.  There were strengths and improvables to consider but in the end we were left with a perception that our attendees were very happy with the event; the areas raised for improvement were really on par with a level of event expected from slick, highly paid event teams.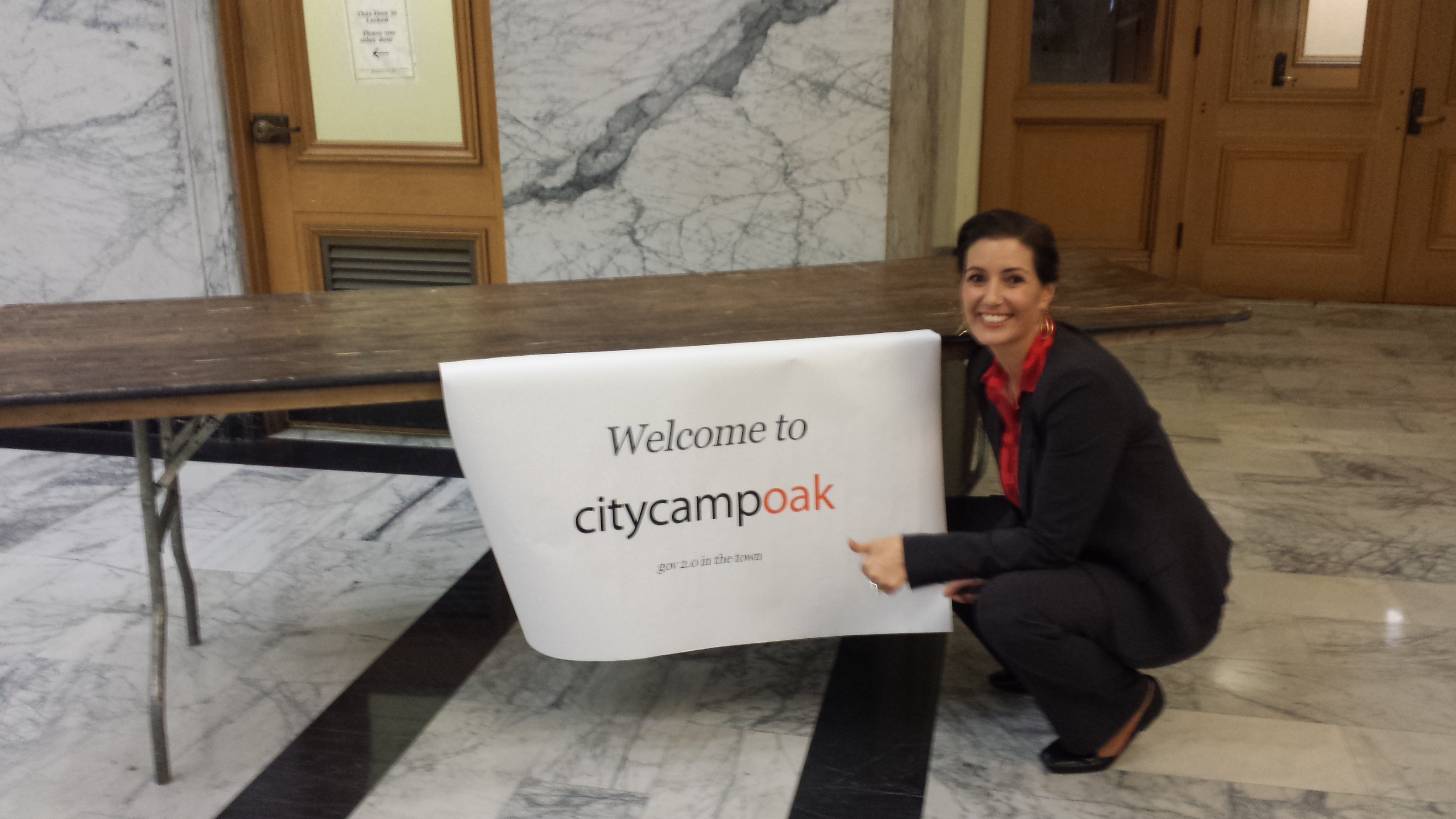 Let's start with some of the stats about the event.  There were 182 people who attended on the day, up from 121 in 2013, a good improvement and just shy of our hoped for 200 mark.
How did people find out about CityCamp Oakland? It was almost equally split between word of mouth, various websites and our email lists.  We received good feedback that there was a really diverse attendee group and that bears out with the stats on who you all said you were- people could pick more than one option here as well, most of us are many things!  A third of those who responded were tech folks, while a quarter were community advocates and one in six were Oakland residents or business owners.
As for who turned up on the day compared to who registered- we looked at that too- the three main groups all had similar sign-up rates compared to their show-up rates although government staff had a bit of a drop off:
We asked you how well did the keynote speakers meet your expectations? Over half said they Hella Loved them, one quarter said they liked them while one respondent said they disliked our speakers.  For our session breakouts, over half said they liked them with one third hella loving them and one in six people saying they were just OK.
Food was a hit with two thirds of people loving or liking it and a third rating is as OK.  The closing session was a success for half the audience and most others thought it was only ok.
Greater Outreach:
Due to a few notable requests for neighborhood- and district-specific follow-up events, we're seeing opportunities for deeper engagement at a hyper-local level across Oakland. There was some really rich commentary on neighborhood-specific collaboration for which we've been requested to facilitate, as well as suggestions to have city council members invite their constituents ahead of time, "walking the neighborhoods" and engaging outside of the event with a diversity of stakeholders, and more promotion in general.
Improving Breakout Session Quality:
Resounding feedback on the format, quality, and engagement within breakout sessions reflected a clear understanding that while nearly all enjoyed the format of the unconference concept, which notoriously promotes a good degree of spontaneity and community decision making, the sessions with leaders who prepared prior to CityCampOAK were the most well received and engaging. Specific requests included:
more time to prep pitches before the event with targeted outreach to those who sign up as a call to action;
targeted outreach to prominent tech and community leaders who would typically be considered panelists and having them to participate within group discussions;
better training and engagement of the facilitators; and
session suggestion guidelines posted in the breakout rooms and spaces to save time and make it easier for spontaneous session leaders to get rolling.
"Show Flow" and Logistics:
People had some thoughtful, descriptive feedback about the general flow and logistics of the day. Some liked the topical variety offered by having so many sessions, others were tired by mid-afternoon, one felt that having four sessions meant that they were more discussion- than development-based. There was a recommendation to tighten up the initial morning introduction to allow more time for workshops and breakouts, and another to cut down on the number of breakout sessions to make them longer and allow for more action planning. We learned that we need to have more water available in general. There was a request for more clarity of the voting process for the day and a greater acknowledgement of the event planning team as well.

Overarching theme: More Actionable Followup
The big lesson here was that everyone wants to keep this going, and most expected us to know what to do about that. Additionally, some expected us to have that follow up planned and communicated in advance of the event so that folks could keep that structure in mind as they participated. From keeping communities and sub-groups of folks in issue-specific discussions connected after the event, to online forums and communication channels and opt-in email lists built just for this purpose, to clarity on expected outcomes prior to the event, it sounds like people really wanted a better sense of what would come of their collaboration the day of – they really wanted to "see" the results of a day they so enjoyed and appreciated as an opportunity for connecting and learning. And of course, why shouldn't they?

What Nearly Everyone Loved: Diversity of Ideas and People
Qualitative survey feedback on the diversity of participants and ideas and insights shared and discussed was a clear standout – and one we don't have a hard time celebrating. Diversity is one of our core values and reflecting and promoting it in multiple ways is an inherent goal. We feel great that this is really showing up at CityCampOAK. It's not always an easy win, but we're grateful that Oakland shines in this respect.

As a learning organization, we take all of this stuff pretty seriously. Many sincere thanks to those who took the time to respond to the survey and share those important insights. We will be directly incorporating this feedback into our event design for next time and, perhaps most significantly, into our program design and operations from here on out (when viable and applicable). We gained a ton from your comments and encourage you to keep them coming. After all, you're why we do this! Thanks for another incredible CityCampOAK.